Search Results for: the fugitive 1963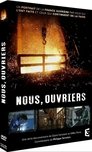 Freedom Movement 1963 presents a double feature of Harvey Richards' films about the civil rights movement in 1963. The first is Freedom Bound, a film shot in Mississippi about the voter registration drives of SNCC and the NAACP. The second is Freedom March about the San Francisco protest march of 15,000 people after the Birmingham, Alabama bombings that killed four young girls.
Every major Rolling Stones single and album from 1963 to 1969 is revisited and reviewed by a leading team of working musicians and respected critics in this retrospective of the legendary British rock band's Decca Record years.